Troglodyte
Talk

0
3,542pages on
this wiki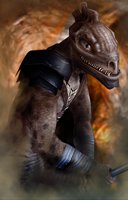 Troglodytes are cave-dwelling reptilian humanoids who take pleasure in fighting battles and in eating the bodies of their dead foes. While not very bright, trogs are known for their ferocity, cunning, and horrific stench.
Statistics
Edit
Race: reptilian
Alignment: chaotic evil
Armor class: 15
Hit points: 13
Attack bonus: +2
Damage: 1d8 piercing damage (spear)
Disarmed: d4 / d4 / d4 (claw / claw / bite creature weapons)

Trained skills:(‡) hide (5), listen (3)
Feats: darkvision, weapon focus (spear, throwing axe), weapon proficiency (creature), weapon proficiency (martial), weapon proficiency (simple)

Blueprint:(‡) nw_trog001
Special abilities
Edit
A troglodyte can use its troglodyte stench once per day.
This creature was added with the 1.64 patch.
See also: troglodyte cleric, troglodyte warrior