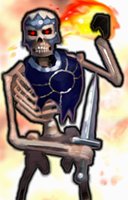 The bones of the dead, animated by dark magic, skeleton mages have no mind of their own. They are but an extension of their master's will.
Statistics
Edit
Race: undead
Alignment: true neutral
Armor class: 13
Hit points: 14
Attack bonus: +2
Damage: 1d4+1 piercing damage; criticals 19-20/x2 (+1 dagger)

Hit dice (level): 4
Spellcasting: wizard 3
Challenge rating: 4

Size: medium
Trained skills:(‡) concentration (3), listen (4), lore (5), search (3), spellcraft (5)
Feats: alertness, combat casting, darkvision, summon familiar, weapon proficiency (creature), weapon proficiency (wizard)

Blueprint:(‡) nw_skelmage
Craft drop: large bone
Special abilities
Edit
A skeleton mage has the usual undead immunities to critical hits, death magic, disease, level drain, ability drain, mind-affecting spells, paralysis, poison, and sneak attacks. This creature is a level 3 wizard with the following spells prepared.
See also: skeleton, skeleton chieftain, skeleton priest, skeleton warrior
Ad blocker interference detected!
Wikia is a free-to-use site that makes money from advertising. We have a modified experience for viewers using ad blockers

Wikia is not accessible if you've made further modifications. Remove the custom ad blocker rule(s) and the page will load as expected.