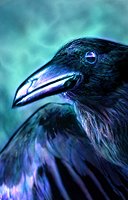 Ravens are sly tricksters, fond of quickly attacking an enemy and then darting away. Ravens are not considered the most beautiful of birds, but they can be taught to be useful. Although, they do not need to be taught how to tease; that is bred in their blood.
Statistics
Edit
Race: animal
Alignment: true neutral
Armor class: 14 to 21 (including the size modifier)
Hit points: 5 to 190
Attack bonus: +4 to +41/+36/+31
Damage:
at level 1: 1d4 - 4 piercing-slashing damage; on-hit (monster) poison: shadow essence
at level 40: 1d8 + 1 piercing-slashing damage; on-hit (monster) poison: shadow essence; on-hit: slow (5% chance, DC 26 will save, lasts 5 rounds)

Hit dice (level): 1 to 40
Challenge rating: 1/3 to 25

Size: tiny
Trained skills:(‡) hide, listen, move silently, search, spot (No skills improve after level 30.)
Feats: toughness, weapon finesse, weapon proficiency (creature)

Blueprint:(‡) nw_fm_rave01 to nw_fm_rave40
Special abilities
Edit
All raven familiars are immune to mind-affecting spells. They also have damage reduction and spell resistance dependent on the master's level. At level 15, the raven's attack gets a 5% chance of slowing the target for 5 rounds, if a will saving throw is failed. In addition, the raven's natural weapon (its talons) eventually gain an enhancement bonus, improving its attacks and allowing it to better pierce the damage reduction of enemies. At master level 35, the base damage of the talons improves from d4 to d6, and at 40 it becomes d8.
master
level
damage
reduction
spell
resistance
1
5/+1
10
5
5/+1
12
10
5/+1
14
15
5/+1
16
20
5/+1
18
35
5/+2
18
40
5/+3
18

master
level
talon
enhancement
on-hit
slow DC
1
 
 
15
+2
14
17
+2
20
19
+2
26
20
+3
26
25
+4
26
30
+5
26
Ad blocker interference detected!
Wikia is a free-to-use site that makes money from advertising. We have a modified experience for viewers using ad blockers

Wikia is not accessible if you've made further modifications. Remove the custom ad blocker rule(s) and the page will load as expected.