This article is about the standard creature; for the familiar, see Pseudodragon (familiar).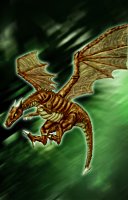 Pseudodragons resemble miniature red dragons, but are red-brown in color rather than deep red. They have fine scales and sharp horns and teeth. Their barbed, venomous tails are their favored weapons.
Statistics
Edit
Race: dragon
Alignment: neutral good
Armor class: 17
Hit points: 15
Attack bonus: +3
Damage: 1d3 piercing damage; on monster hit: poison: oil of taggit

Trained skills:(‡) hide (8), listen (5), search (2), spot (5)
Feats: alertness, darkvision, immunity to sleep, low-light vision, weapon proficiency (creature)

Blueprint:(‡) x0_dragon_pseudo
Special abilities
Edit
The pseudodragon is immune to paralysis and has true seeing.
Added in the expansion packs.
Although they resemble wyrmlings, pseudodragons are not young dragons; they are fully grown at two-and-a-half feet from tip to tail.
Neverwinter Nights dragons
Chromatic
black dragon, blue dragon, green dragon, red dragon, white dragon
Metallic
brass dragon, bronze dragon, copper dragon, gold dragon, silver dragon
Other
mist dragon, prismatic dragon, shadow dragon
Related
dracolich, faerie dragon, pseudodragon, wyvern
Ad blocker interference detected!
Wikia is a free-to-use site that makes money from advertising. We have a modified experience for viewers using ad blockers

Wikia is not accessible if you've made further modifications. Remove the custom ad blocker rule(s) and the page will load as expected.