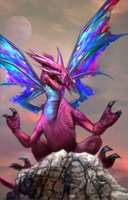 Prismatic dragons are flamboyant, personable and charming. They avoid confrontation, fighting only if attacked.
Statistics
Edit
Race: dragon
Alignment: true neutral
Armor class: 70
Hit points: 1032
Attack bonus: +48/+43/+38/+33
Damage: 4d6+19 / 4d6+19 / 4d8+19 (claw/slam/bite creature weapons)

Hit dice (level): 40
Challenge rating: 37

Size: huge
Trained skills:(‡) concentration (75), hide (13), listen (75), move silently (29), open lock (29), search (75), spellcraft (75), spot (75)
Feats: cleave, darkvision, great cleave, improved initiative, knockdown, power attack, weapon focus (creature), weapon proficiency (creature), whirlwind attack

Blueprint:(‡) x2_dragonpris001
Special abilities
Edit
A prismatic dragon the usual dragon immunities to mind-affecting spells, paralysis, and sneak attacks. It is also immune to the specific spells blindness/deafness, prismatic spray, searing light and sunbeam, and has permanent true seeing.
This creature can cast each of the following as a spell-like ability with a caster level of 15: sunbeam, sunburst and web once per day; cone of cold, dismissal, ice storm and Isaac's lesser missile storm twice per day; and fireball four times per day. It can also use its deflecting force ability once per day and prismatic dragon breath nine times per day.
Unlike most dragons, prismatic dragons do not have a fear aura.
Neverwinter Nights dragons
Chromatic
black dragon, blue dragon, green dragon, red dragon, white dragon
Metallic
brass dragon, bronze dragon, copper dragon, gold dragon, silver dragon
Other
mist dragon, prismatic dragon, shadow dragon
Related
dracolich, faerie dragon, pseudodragon, wyvern
Ad blocker interference detected!
Wikia is a free-to-use site that makes money from advertising. We have a modified experience for viewers using ad blockers

Wikia is not accessible if you've made further modifications. Remove the custom ad blocker rule(s) and the page will load as expected.