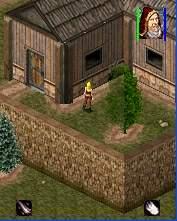 Neverwinter Nights: Mobile is a conversion of Neverwinter Nights for mobile telephones released in 2004. It was developed by FloodGate Entertainment, the company that developed the Shadows of Undrentide expansion.
Game description
Edit
The mega-hit role-playing game Dungeons & Dragons goes wireless with NeverWinter Nights: Mobile! Create your own custom character and enter the Forgotten Realms for over fifteen hours of mind-blowing fantasy. Interact with elves, dwarves and halflings, and explore dozens of towns, cities and ruins on a quest that spans three complex chapters. Cast spells, collect gold, acquire skills and use weapons to battle orcs, goblins and hordes of monsters ripped from the D&D 3rd edition rules.
External links
Edit
Ad blocker interference detected!
Wikia is a free-to-use site that makes money from advertising. We have a modified experience for viewers using ad blockers

Wikia is not accessible if you've made further modifications. Remove the custom ad blocker rule(s) and the page will load as expected.