Maggris, the Hive Mother
Talk

0
3,542pages on
this wiki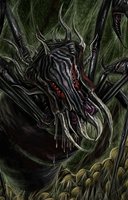 The insect-like creature in front of you moves with a delicate step and a deliberate intelligence.
Statistics
Edit
Race: vermin
Alignment: true neutral
Armor class: 26
Hit points: 276
Attack bonus: +41/+36/+31
Damage: 4d6+18 slashing damage (creature weapon)

Trained skills:(‡) spot (7)
Feats: weapon proficiency (creature)

Blueprint:(‡) x3_maggris
Special abilities
Edit
Maggris is immune to mind-affecting spells.
This creature's attack inflicts poison on hit for 1d2 strength damage DC 26. Maggris can cast bebilith web and acid bolt, each twice per day.