Lizardfolk shaman (cleric)
Talk

0
3,542pages on
this wiki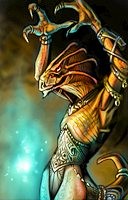 Primitive and savage, these reptilian humanoids can be very dangerous if provoked. They are fiercely territorial, banding together to protect the swamplands they inhabit.
Statistics
Edit
Race: reptilian
Alignment: neutral evil
Armor class: 15
Hit points: 32
Attack bonus: +4
Damage: d6+1 (club)
Disarmed: d4+1, d4+1, d6+1 (claw, claw, bite creature weapons)

Hit dice (level): 5
Spellcasting: cleric 3
Challenge rating: 4

Size: medium
Trained skills:(‡) concentration (5), heal (4), spellcraft (0)
Feats: armor proficiency (heavy), armor proficiency (light), armor proficiency (medium), combat casting, shield proficiency, turn undead, weapon proficiency (creature), weapon proficiency (simple)

Blueprint:(‡) nw_oldmageb
Special abilities
Edit
This lizardfolk shaman is a level 3 cleric with the following spells prepared.
See also: lizardfolk chieftain (barbarian), lizardfolk chieftain (rogue), lizardfolk shaman (sorcerer), lizardfolk warrior