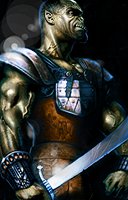 Half-fiend warrior: Demons and devils sometimes bring their offspring along to the material plane and loose them upon the world.
Statistics
Edit
Race: outsider
Alignment: chaotic evil
Armor class: 18
Hit points: 110
Attack bonus: +23/+18
Damage: d12+17 (greataxe +2)
Disarmed: d6+10 piercing damage / d4+10 piercing-slashing damage (creature weapons)

Trained skills:(‡) discipline (36), listen (14), parry (12)
Feats: armor proficiency (light), armor proficiency (medium), barbarian fast movement, cleave, darkvision, dodge, power attack, shield proficiency, uncanny dodge I-III, weapon focus (greataxe), weapon proficiency (creature), weapon proficiency (martial), weapon proficiency (simple)

Blueprint:(‡) nw_halffnd001
Special abilities
Edit
A half-fiend warrior is immune to poison, and can enter a rage once per day.
This creature possibly was supposed to have some degree of immunity to electrical damage, but the amount of that immunity was incorrectly set, resulting in an immunity of 0%.
Ad blocker interference detected!
Wikia is a free-to-use site that makes money from advertising. We have a modified experience for viewers using ad blockers

Wikia is not accessible if you've made further modifications. Remove the custom ad blocker rule(s) and the page will load as expected.