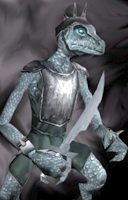 Kobolds are small humanoids, dangerous only in great numbers.
Statistics
Edit
Race: reptilian
AC bonus: +13 dodge bonus
Druid/shifter merge: armor, items, weapon
Bonus hit points: +70
Size: small
Weapon: 1d6 +6 piercing damage + 2d4 acid damage (shortsword +6)
Special: massive critical +2d6, on-hit: poison 1d2 dexterity (DC 24)
Spells: invisibility

Skill bonus: +10 hide, +5 listen, +10 move silently, +7 open lock, +7 set trap, +5 spot, +10 tumble
Extra feats: alertness, dodge, hide in plain sight, sneak attack +5d6, use poison, weapon finesse
Special abilities
Edit
A kobold commando has darkvision, freedom, and improved evasion.
This polymorph is used by the feat humanoid shape.
The bonus to the set trap skill and the use poison feat are unlikely to benefit a PC, as the corresponding trap and poison items are unusable while polymorphed.
Builder's note
Edit
This polymorph lacks a scripting constant; it must be referred to by the number 103.
Ad blocker interference detected!
Wikia is a free-to-use site that makes money from advertising. We have a modified experience for viewers using ad blockers

Wikia is not accessible if you've made further modifications. Remove the custom ad blocker rule(s) and the page will load as expected.