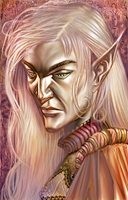 The drow are an evil subrace of elves, living deep underground in the dangerous Underdark.
Statistics
Edit
Race: elf
Alignment: lawful evil
Armor class: 21, 24, 27
Hit points: 48, 71, 121
Attack bonus: +6/+1 /+6, +12/+7/+2/ +12/+7, +22/+17/+12/ +22/+17
Damage:
level 11: d8 +3/ d8 +2 (2 longswords +2)
level 18: d8 +4/ d8 +3 (2 longswords +3)
level 26: d8 +7/ d8 +6 (2 longswords +5)

Hit dice (level): 11, 18, 26
Challenge rating: 7, 11, 18

Size: medium
Trained skills:(‡) disable trap (13, 20, 28), discipline (9, 13, 22), hide (17, 25, 34), listen (16, 23, 31), move silently (17, 25, 34), open lock (18, 26, 35), spot (16, 23, 31), tumble (17, 25, 34)
Feats: ambidexterity, armor proficiency (light), dodge, evasion, hardiness vs. enchantments, immunity to sleep, keen sense, lightning reflexes, low-light vision, monster uncanny reflex, skill affinity (listen), skill affinity (search), skill affinity (spot), sneak attack (+5d6), two-weapon fighting, uncanny dodge II, weapon proficiency (elf), weapon proficiency (martial), weapon proficiency (rogue)
gained for the level 18 and above: improved evasion, improved two-weapon fighting, skill mastery, sneak attack (+8d6), uncanny dodge V
gained for the level 26: crippling strike, great strength III, improved critical (longsword), opportunist, slippery mind, sneak attack (+10d6), uncanny dodge VI+, weapon focus (longsword)

Blueprint:(‡) x2_mephdrow001 to x2_mephdrow003
Special abilities
Edit
A drow rogue is immune to the spell web, and has a +4 bonus to saving throws versus poison.
The drow rogue can cast darkness as a spell-like ability once per day with a caster level of 10 for the level 11 rogue and 15 for the level 18 and 26 rogue. He also has two tanglefoot bags.
Added in the Hordes of the Underdark expansion
The subrace of these creatures is "Drow".
The cloak for the drow rogue allows for the spell darkness to be cast once per day at caster level 3, but the AI is unable to make use of cast spell properties on equipped items.
See also: drow assassin, drow mage (sorcerer), drow mage (wizard), drow militia, drow priestess (HotU), drow priestess (OC), drow warrior, drow wizard
Ad blocker interference detected!
Wikia is a free-to-use site that makes money from advertising. We have a modified experience for viewers using ad blockers

Wikia is not accessible if you've made further modifications. Remove the custom ad blocker rule(s) and the page will load as expected.