Dagger Falls Revisited
Talk

9
3,542pages on
this wiki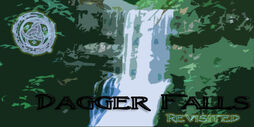 Dagger Falls Revisited (DFR) is a persistent world module roleplay server set in the Dalelands region of the Forgotten Realms, currently under construction. The server is based on an old version of Daggerdale but no longer requires Tokens of Distinction. In order to join the server players will need to have both expansion packs (Hordes of the Underdark and Shadows of Undrentide) installed. In addition, version 2.4 of the Community Expansion Pack is required. No other hak paks are required.
Set in the year 1371, Year of the Unstrung Harp, official sources describe Daggerdale as a land of broken hills and valleys. The soil is rocky, but fertile and there is ample vegetation. Trees grow thick in the rich soil of the valleys and ravines while the hill tops tend to be rocky and grassy. Many small streams cut through the hills and run down to flow into the two rivers which flow through the dale, the River Tesh and the Dagger River. One thing which can be deduced from studying a map of the area is that there is a ridge separating the two river valleys that has its highest point in approximately the area of Castle Enneth. This ridge extends northeast from that point to separate the headwaters of the Cold Rush from the valley of the River Tesh and join with the Dagger Hills. The largest town in the dale, Dagger Falls, gets its name from the falls where the River Tesh flows over a sudden drop in this ridge line north of where it joins the Dagger Hills.
The main sources for information on Dagger Falls Revisted are The Dalelands accessory by Richer L. Baker III (TSR - 1994), Volo's Guide to the Dalelands by Ed Greenwood (TSR - 1996), and the Forgotten Realms Campaign Setting 3.5 by Greenwood, Williams, Reynolds and Heinsoo (WoC -2001).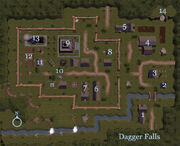 Connection information
GameSpy category:
Role Playing
Server name:
FR - Daggerdale: Dagger Falls
Module name:
Dagger Falls Revisited
Direct connect:
Password required:
None
Required hakpaks:
CEP 2.4
Required game version:
1.69
 
Player information
Primary game type(s):
Levels played:
Maximum players:
Vault type:
server vault
Enforce legal characters:
Item level restrictions:
Player vs. player:
 
Server information
Server admin/owner:
DM timezone(s):
GMT-5 EST (USA)
Primary language:
English
Forums:
http://daggerfalls.forumotion.com/