Asabi shaman
Talk

0
3,542pages on
this wiki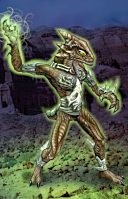 Asabis are desert-dwelling reptilian humanoids who are often found as mercenaries or slaves in the service of evil creatures. The average asabi male stands nearly seven feet tall, and their thick, pebbly skin is brown or gray in hue. They have yellow, egg-shaped eyes with horizontal slit pupils.
Statistics
Edit
Race: reptilian
Alignment: lawful evil
Armor class: 16
Hit points: 37
Attack bonus: +6
Damage: d6+1 (scimitar+1), d4 (sling)

Hit dice (level): 7
Spellcasting: druid 4
Challenge rating: 5

Size: medium
Trained skills:(‡) concentration (6), hide (8), move silently (7)
Feats: animal companion, armor proficiency (light), combat casting, dodge, nature sense, resist nature's lure, trackless step, woodland stride, weapon proficiency (creature), weapon proficiency (druid), weapon proficiency (simple)

Blueprint:(‡) x0_asabi_shaman
Special abilities
Edit
An asabi shaman is a level 4 druid with the following spells prepared.
See also: asabi chieftain, asabi warrior