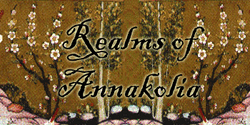 The Realms of Annakolia is an open persistent world server set in the world of Elder Galandar. New gamers and experienced gamers are both welcome, and there are several DM-run sessions per week.
Although some of the things in the world have names that overlap with Faerûn, Annakolia predates Faerûn, and it should be emphatically noted that nothing in Annakolia is a reference to Faerûn at all. Visitors should keep that in mind when creating characters.
Resources
Edit
Locations
Edit
Custom character classes
Edit
These unique character classes were scripted by Flamecrow for Realms of Annakolia, based upon scripting by Bloo/Hahnsoo for the persistent world Crimson Spire.
External links
Edit
Ad blocker interference detected!
Wikia is a free-to-use site that makes money from advertising. We have a modified experience for viewers using ad blockers

Wikia is not accessible if you've made further modifications. Remove the custom ad blocker rule(s) and the page will load as expected.